Custom Floggers by Entropy!
Off the shelf floggers are fine...but wouldn't you rather have something built to your own specifications? Goddamn right you would! Maybe you like your handles a bit longer than normal for extra leverage and power in your swing. Maybe you've got hands that could palm a harbor buoy and need a handle with a bit more girth than what's commonly on the market. Perhaps you're a tiny femdomme who can hit like a bus, but have small hands. Wouldn't it be nice to have handles that fit those hands? Well...what the hell can you do to solve that?
Custom floggers.
From simple cowhide or suede tails, to more exotic hides like moose, elk or deer. From stylish leather lace-wrapped handles, to exotic Australian-style braiding.
I will build the floggers which have been rattling around in your imagination.
Check out some of my past custom projects


"The Mr. Fedora"
This set represents a whole new style and technique which is now available at Entropyland. The pair were commissioned by a local Dominant who is known as Mr. Fedora for his signature headwear. he asked me if I could somehow integrate fedoras into the design and I was intrigued by the request. Above was my solution. The hanging straps normally found on Entropyland floggers have been replaced by small disks of leather on which I carved and tooled the requested hats for a look unlike any other pair of floggers I've ever seen. The floggers each feature 32 soft and thuddy black elk tails, braided handles in shiny black and metallic gold cowhide, and are terminated in pineapple knots.

"The <Name Redacted>"
this pair was originally commissioned by a gentleman who then stopped responding to my emails....so they have since been sold to someone else. This super-thuddy matched set features 32 tails each of soft and dense dark green mooshide, braided handles in black and metallic silver cowhide, and are finished top and bottom with pineapple knots.

"Overbound 2.0"
This pair was built as a replacement set for the original "Overbound" set. They are as identical as I could make them, given that I didn't have the originals to work from and that the supplies of black moosehide have dried up at the moment. Like the originals, this pair features black and red leather handles with the initials "O" and "B" braided into them, but unlike the originals, the tails are black elk and red moosehide for a very similar thud. This was an interesting experiment in re-creating past work that turned out so close to the originals that it would be hard to tell them apart.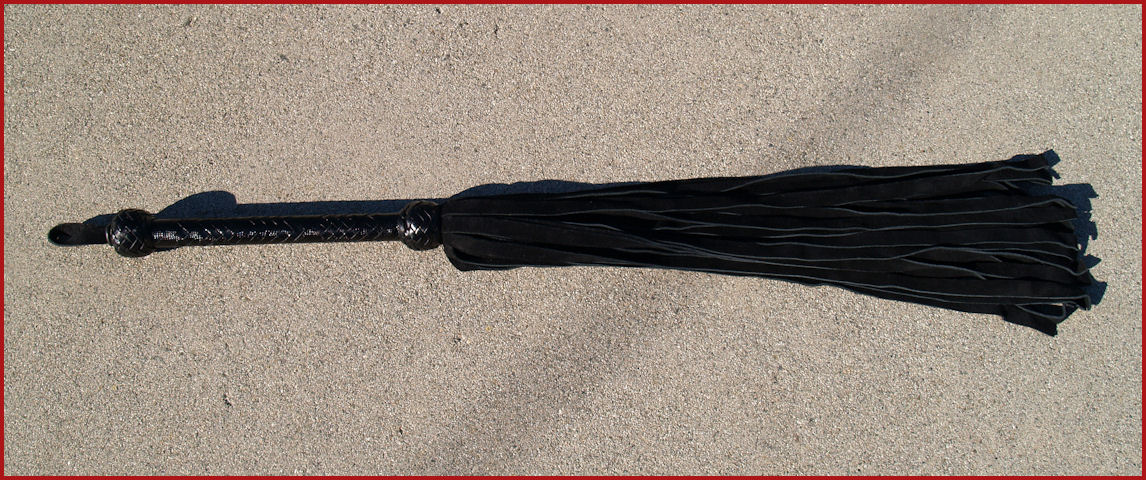 "The Outlaw"
This was a special piece comissioned for a customer who shall remain nameless...but we'll call him "The Outlaw". This sinister looking flogger features 28 tails of thuddy black cow suede. The handle displays shiny black leather details, including the customer's initials, contrasting with matte textured black leather for a stealthy, dangerous look, and finished with pineapple knots.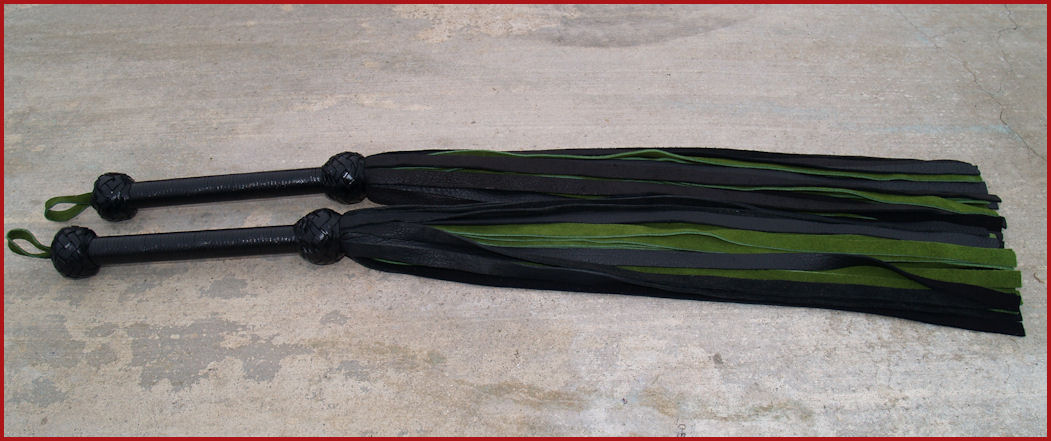 "Mr Danny"
It's a return to the Old-School Entropyland wrapped handles for this matched pair of floggers. They each feature 31 tails of black elk and green suede for extra thud with an interesting visual as the green peeks out from the black in flight. The handles are wrapped in 1/8th inch black lace over suede for a sure grip with a bit of give and finished with pineapple knots.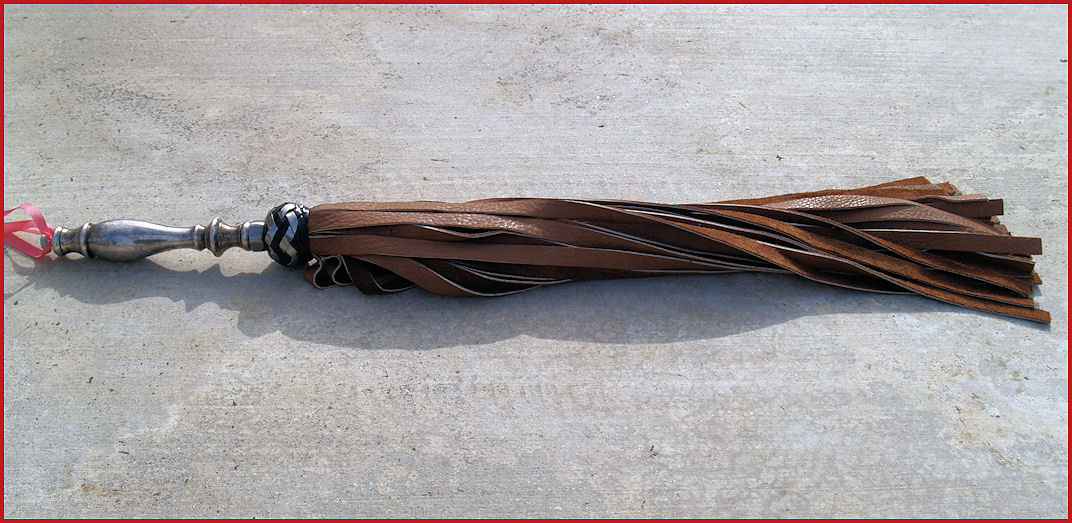 "The Candlestick"
This one's a bit out of the ordinary. It was commissioned by a customer who wanted me to turn an antique candlestick into a flogger. Challenge Accepted! It features 32 tails of soft, brown Deer-tanned Cowhide for some *serious* thud and a two color pineapple knot in black and silver. The entire tail section and knot are built on a custom steel piece which threads onto the existing silver candlestick. This opens up the possibility for replaceable, additional sets of tails in different styles, materials or colors. A truly modular system that looks like an antique.

"Ken Marcus"
This very special set was comissioned by fetish model/entrepreneur Venus de Mila as a birthday present for the world-famous Glamour/Fetish/Erotic photographer, Ken Marcus. This is the first pair of floggers to feature Entropyland's innovative color-change braid technique on the handles. The Handles transition from black and red checkerboards, to ken's initials ("K" on one handle, "M" on the other) in silver, and then back to red and black. The floggers feature 28 buttery-soft black elk skin tails on each and two color pineapple knots in black and silver, to complete the theme. This may well be the nicest comissioned set I've done to date.

"Overbound"
The second of two sets of custom floggers commissioned by the beautiful Hudsy Hawn. This pair was built for Sir Overbound of NieldHaus. It features 30 soft, dense tails of black and red (The NieldHaus colors) moose hide. The black and red motif is carried into the handle which showcases the initials "O" and "B" (for Overbound) braided into the handles, which are capped with black calfskin pineapple knots.

"Hudsy Hawn"
The first of two sets of custom floggers commissioned by the beautiful Hudsy Hawn of NieldHaus. This is her personal pair and features 24 red moosehide tails (Hudsy was born in Alaska and specifically requested moose as a nod to her home) on a braided leather handle in the NieldHaus colors of red and black. The initials "H H" are braided into the leather of each handle and the handles themselves are capped on both ends with calfskin pineapple knots

"The Mister J"
A tribute to Gotham's favorite sociopath, this concept flogger features 24 green, pointed suede tails on a 16 plait braided handle in clown-face white and zoot suit purple with the letter "J" braided into it and two color pineapple knots in black and purple. This piece IS for sale. Want to make your own H.Q.'s day? Bring this one home...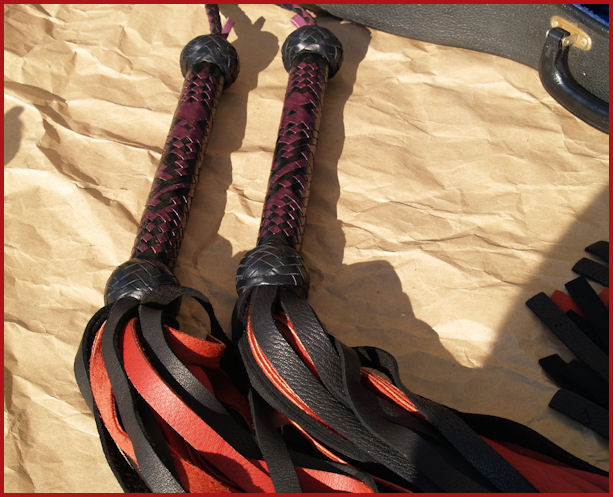 "The E² Project"
These are 2 of a set of 4 special floggers built in collaboration with Master Eragon as a showcase for our abilities. They feature 32 moose-hide tails in black and red, 20-plait braided handles which incorporate a skull and crossbones pattern into the design, and pineapple knots on both ends.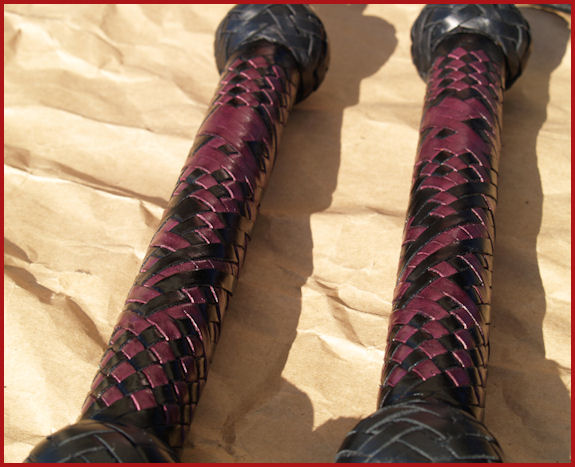 "The E² Project" Handle Detail
24 Buffalo-hide tails on handles featuring 16-plait Australian-style braiding and Pineapple knots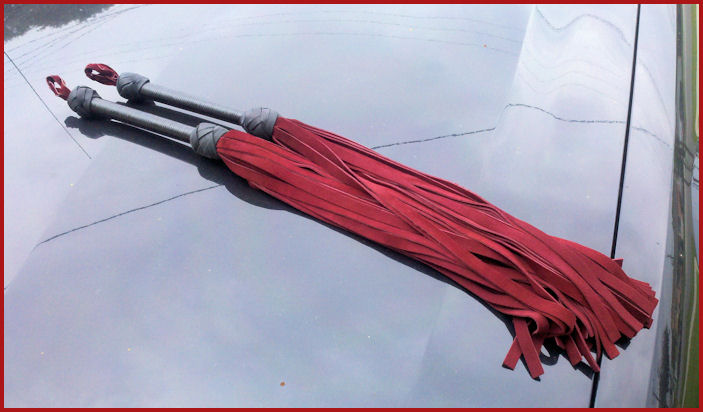 Matched set with 32 tails of cow suede on each flogger. handles are wrapped in Black 3/16" leather lace and terminated with my original-style 2-pass Turk's head knots, also in black. These things pack some serious thud!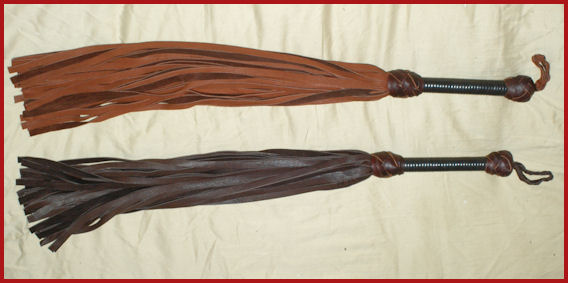 matched set of Elk-skin Floggers, one with light brown tails, the other chocolate brown. The handles are wrapped in black 3/16" leather lace and are terminated in brown original-style 2-pass turk's head knots. This beautifully balanced set was light enough to swing all night, but heavy enough to get your sub's attention and keep it!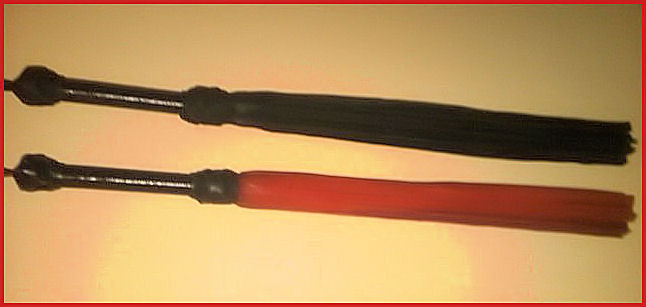 Matched set of Deerskin floggers built for Submissann, one in red, the other in black. The handles are wrapped in 1/8" black leather lace and are terminated in black original-style 2-pass Turk's head knots.

This was a massive thumper built for Master Kasod. It featured an absurd number of elk skin tails, a handle wrapped in 1/8" black leather lace, and my original-style 2-pass Turk's head knots. Despite it's considerable mass, it was just as well balanced as every other flogger I make.
These are, of course, just a small number of the floggers I've built since 1996, but they show a pretty representative cross-section of what I do. Use these as inspiration, or create a concept of your own! together, we'll come up with the flogger...or floggers...you've always wanted, but couldn't find.
Email me Entropy@entropyland.com and tell me what you've got in mind!